Do You Love LEGO® Robotics? Add a Whole New Dimension with databot™!
This 130+ page lab manual provides eight awesome, data-driven missions to challenge your students to solve problems using live sensor data from databot™! All missions include detailed step-by-step support for integrating data collection and analysis into your current LEGO® program.  The mission builds and instructions are designed for the LEGO® Spike Prime Educators kit #45678 but can be easily modified for earlier Mindstorms® kits.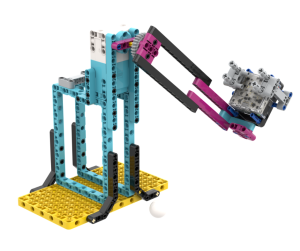 Each mission is a career oriented scenario that poses a challenge to be overcome through the use of data.  For example, mission #3, Putter Perfection, shown here is a sports science and engineering challenge.  Your team has been hired by a professional golfer to help her improve her performance – her putting game is off!  Here is an excerpt from the Background information on the mission.
Your team has been hired as biomechanical engineers by a professional golfer experiencing a career slump – her putting game is off! You will help her by demonstrating how to deliver perfect putts to a target 6′ away. Do this by adjusting the force of impact from LEGO® motor speed and swing angle. Work as a team. The data scientist will evaluate each round of code and the coder will adjust the force accordingly until the putting is "perfection." Two forces that affect a golf ball are gravity and friction. Putting combines mass (the club head) and acceleration (the swing) to deliver a force to the ball to overcome gravity and friction.
Everything You Need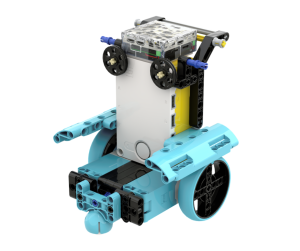 Add databot™s and this Mission Guide and you will have everything you need to enhance your LEGO® Robotics summer camp, after-school program, CTE or STEM program or your homeschooling efforts.
Background Materials
Career Connections
Real World Examples
Build Plans
Coding Instructions: Spike Prime
databot™ Coding with MicroBlocks®
Vizeey™ Data Collection and Visualization App
Custom Vizeey™ App Experiments
Extension Challenges
Data Collection Tables and Worksheets
Step by Step Instructions for Data Analysis
Standards Alignments: NGSS, ISTE, TEKS, CBSE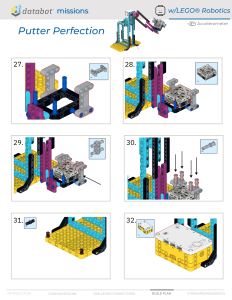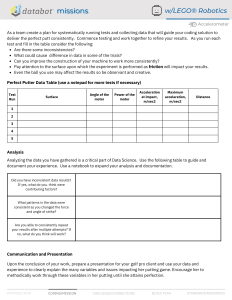 For Grades 4 and Up
These missions include complete instructions for creating the builds and integrating the data collection and analysis experience. For younger students conducting the builds and being introduced to collecting and visualizing data will be very useful.  For older students there are advanced extensions and challenges in addition to data worksheets and calculations.
Technical Requirements
For fast and easy  sensor experiments the only technical requirement is to have a smart device (IOS or Android) such as a tablet or smartphone with Bluetooth to connect to databot™.  You download our free app, Vizeey™, connect to databot and you're up and running!  For coding databot™ the MicroBlocks® coding environment is designed to run on Windows/MacOS/Chromebooks in a browser environment.  No software installation required!