Camp databot™ STEM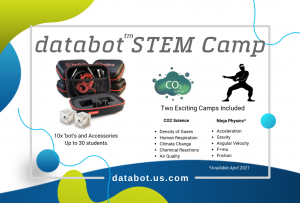 Tough-as-nails, easily shipped, no parts to lose, and easily cleaned for the next round, databot™ is an extraordinary tool for educators seeking to provide engaging hands-on STEM activities for after-school, in-class, and even for students studying from home. Due to its extraordinary versatility, there are many applications for databot™ for teaching subjects including Chemistry, Physics, Earth Science, Environmental Science, Life Science, Coding, and more.  We are constantly adding activities which will make your databot™ inventory indispensable for STEM education!  Sign up for our blog to receive updates on new curriculum and activities!s
Grades: 4-8
Number of Students: Up to 30 (in groups)
Recommended Environments:
Perfect for 
Virtual Camps
At-home Experimenting
Summer Camps
Classrooms
After-school Programs
Home-school Cooperatives
Curriculum Hours: Each strand is designed to provide 15 hours of activities and with challenges and extensions 24+ hours.
What's Included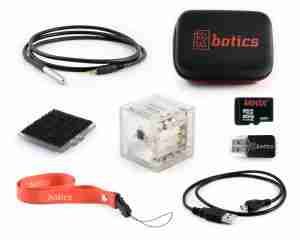 Camp databot™ STEM comes with everything you need to start exploring the hidden world of data immediately! It also includes individual cases for each databot™ to provide an easily shipped and stored single unit to make logistics a snap if you're sending them home with students.
databot™ – 10
Detailed instructions for accessing and installing the Phyphox science sensor visualization app (IOS/Android/Chromebook). Students will require a smart device to connect to databot™ and visualize and record data from the associated experiments.
8 GB Micro SD Card – 10
Micro SD Card Reader – 10
Mini USB Charging/Coding Cable -10
External Temperature Probe – 10
Industrial Velcro Pad – 10
Removable Base Plate – 10
Lanyard – 10
Soft Shell Storage Case – 10
Camp Curriculum
See the curriculum tab for more details.  databot™ is a multi-purpose STEM exploration tool that enables camp explorations in hundreds of topics.  Our first published series, CO2 Science is a fascinating, interdisciplinary exploration of chemistry, physics, life science, and the environment using one simple tool.
Our next series,  Ninja Physics, is under construction and provides a complete second camp series in which students explore physical forces interactively while learning about the associated data.  You can see examples of what this curriculum is being built on in the blog posts Ninja Walk and Whirling Dervish!  Check it out – awesome fun!
More Details!
Check out the Tech Specs tab to see all sensors and features included in databot™!
If you are an uber geek, please explore the Deep Geek technical information section in our online manual
Explore lessons, activities, and Design Challenges in our content section
See videos of databot™ in action in our gallery and browse the blog for some great examples of how teachers are using it!